Starting a new P.I. business?  See our checklist of items that need to be done pre-liecnesing for 19.95.  Includes reviews/surveys of licensed PI's and popular products and services.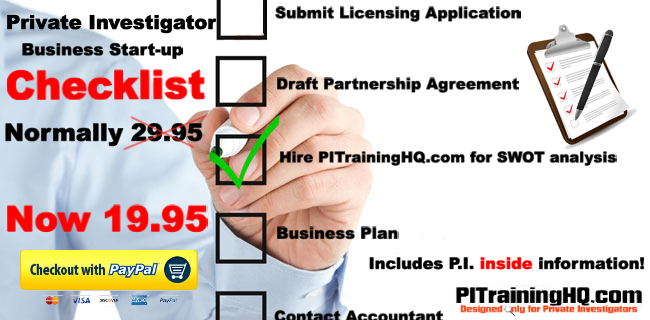 Includes:
Tips on buying Private Investigator General Liability Insurance
List of Errors/Omissions providers
Checklist of necessary things to do to start a P.I. business
List of common Database Providers with Reviews
Insurance Bonding Providers
A password will be sent to the email you provide to open the PDF file below: Type in the password then download and save the file to your device.



FTC Statement-Please Note: PITrainingHQ.com has no affiliation with the businesses/vendors mentioned in the guide and is not compensated by any of the businesses listed. Opinions are based on surveys and responses from verified licensed private investigators only.